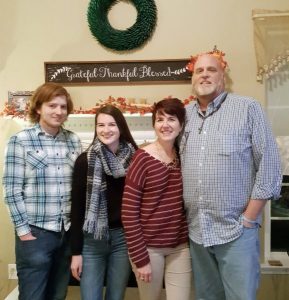 As you read my Vision Statement I hope you sense the importance my family plays in my life.  God first, family second…all the rest is ministry.  To put it another way, I see my wife and two children as the most important ministry God has given me.  When push comes to shove and sacrifices need to be made my family will win as they are the primary calling God has given me.  I am extremely proud of each of them.
Nancy is a great wife, mother, friend and life companion.  We met in college and have been journeying through life since we were 20 years old.  An elementary education teacher by training she has spent time in the kindergarten, first grade, second grade and pre-k classrooms.   She has used her leadership skills to serve as the director of daycare centers in New York, Massachusetts and Pennsylvania.  Nancy is also an amazing and powerful teacher, leader and communicator when working with adults.  Nancy serves as a member of the teaching team at First Baptist and you will find her preaching on a regular basis. While working in the classroom she developed an interest in conflict resolution which led to her pursuing and getting her Master's degree in Conflict Resolution from UNC Greensboro in 2008.  Her passion and energy around the issue is engaging and has led us to partner to start A Place in the Conversation.  While I am a full-time pastor and my primary focus is First Baptist Kennett Square I use my spare time to support her in her work with A Place in the Conversation.  It is exciting to live each day with her and there is not doubt that life has been an adventure.
Our oldest child, Joseph, recently graduated from UNC Charlotte with a BS in computer game design. He has stepped out and began to pursue life on his own in Atlanta Georgia. He has always had an interest in the theater and had roles in High School Musical, Godspell, and Thoroughly Modern Millie. Later on he moved into the directors role and helped the local theater with a couple of productions. I can not begin to tell you how proud I am of the way he has learned to balance his work schedule, school and other activities and do well in all areas.  It is exciting to watch him prepare for the  next steps of his life. We are always excited when Joseph stops in for a few days.
Rayann is completing her sophmore year at West Chester University. She lives with at home with Nancy and myself, I believe it has more to do with being near her dog, Owen. During the summer of 2013 I had the privilege of having Rayann travel with me to Roatan, Honduras.  The trip opened her eyes to the reality that the world is very different than what we so often take for granted here in the United States. Rayann has made Roatan a special place for herself and travels back to the island each summer, sometimes for multiple weeks. Rayann enjoys horseback riding and is currently looking to study abroad in Scotland during her junior year. She has grown into quite a strong, beautiful young woman.  Her love of jokes…the kind that make you groan…will keep people laughing for hours.  It will be exciting (and anxiety causing) to watch her continue to mature into the young woman God is calling her to be.