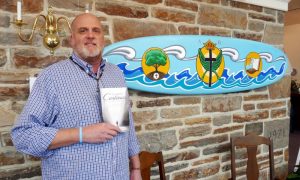 One of my most deeply held, and heartfelt beliefs is that Abba Father has the ability to redeem the most difficult of situations for good.
I am hopeful that this is exactly what Abba is up to with the publication of The Journey Continues. If others who are walking a difficult season in life can find a little help & hope for their struggle. If those who are serving as caregivers can gain insight into what their care receivers are going through, well redemption is taking place!
In order for that to happen, we need help getting the word out about The Journey Continues. This means YOU can be a part of helping Abba redeem the difficult into something life-giving and good!
On this page, you will find a growing list of resources that you can use to help us share about the book. Would you help us "crack the door" to gain an audience with a journalist, radio or t.v. reporter, podcaster, or blogger? We would be thrilled to have you as part of our team!
Feel free to share these resources far and wide!
This is a simple letter, TJC Intro letter which introduces Dan, his journey and The Journey Continues.
This press release, The Journey Continues – Press Release is what we are using to share with all media outlets. Please feel free to share with anyone you think may be interested in Dan's story.
The Poster – Intro Sheet can be used as a poster for coffee shops, bookstores, churches, anywhere people gather. It is also a good, quick introduction and contains all necessary contact information.
This book review request, TJC – Request for Review provides all the information a newspaper, magazine or other media outlet would need to get a free copy of The Journey Continues so they could review it in their publication.
The following is a list of articles, interviews Dan has done to promote The Journey Continues. Please feel free to share these via social media or any other outlet you may have. We appreciate your help in sharing the word about The Journey Continues.
Chester County Press Article – January 2019
southern CHESTER COUNTY weeklies article – January 2019
WCHE Morning Magazine Radio Interview – January 2019
The Republican / Mass Live article (Springfield, MA) – February 2019
Don't go through cancer without 'The Journey Continues' The Reporter, article (Lansdale, PA) – March 2019
Guest post on the Jesus Calling Blog – April 2019
Cortland Standard article (Cortland, NY) – April 2019
Stanly News and Press article (Albemarle, NC) – April 2019
Tim Demoss Show – Radio Interview – May 2019 (interview starts around 17:55)