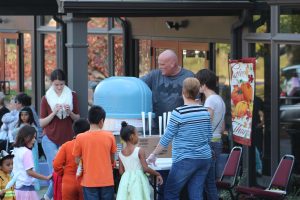 Sunday afternoon I was tired.  If allowed to choose between sitting in my chair watching football or making cotton candy at trunk or treat I would have been sleeping with the t.v. on.
Nancy, Rayann and I showed up just in time to get everything set up and run a test batch.  You have to run a test batch to be sure the product is good.  The "blue" cotton candy (or pure sugar) passed and we were ready to go.  Jane joined us just in time for the crowds to show up.  By the time we shut the machine down we  figured to have given out over 200 pieces of cotton candy.
It was a great day all together.  Nancy did a great job closing out our sermon series on conflict.  We had well over 200 people at the Trunk or Treat.  There were times of learning, laughter and community celebration this Sunday.
Here are some pictures from Trunk or Treat.  Thank you to Briella for letting her mom (Cassandra) take the pictures.  🙂