While conducting a friend's memorial service, I was reminded that "When our hearts are troubled, He (Jesus) brings peace; we have both faith and fear."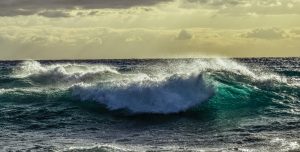 Lynn Hoffman
Lynn Hoffman was a good friend of mine.
I was much younger than Lynn. She could have been my mother. We met when I arrived at First Baptist Church of Kennett Square. Lynn worked in the pre-school classroom of JAM Christian Daycare. The children in her class were "her" kids. She loved them as her own and wanted the absolute best for each one of them. In short, she was the kind of daycare teacher every parent prays for.
Our relationship grew out of mutual respect. I had great respect for the way Lynn ran her class. She always wanted "her kids" to be learning and growing. I admired the effort she put into the classroom. Lynn appreciated that I would stop by her room and interact with the children. When I "popped in," she would stop everything and have the children take a moment to share something of importance to them with me. Lynn and I grew to work together very well.
A Science Experiment
One of my fondest memories is the day we did a science experiment together. I am a sucker for a new kitchen gadget. My most recent purchase was a tool that allows you to core a pineapple. I brought in two pineapples and my newest tool. The children all gathered around, and we talked of the colors and textures found on the outside of the pineapple. I asked if anybody liked pineapple, there was a loud chorus of "no." My scientific team declared they never ate pineapple. As I slowly cored the pineapple there was all kinds of excitement. Once complete, a few brave souls tried a piece of the fresh fruit. We sat around the table sampling pieces while talking about the taste and color of the pineapple. In short order there was nothing left. Lynn was a special teacher.
Lynn's Final Instructions
One Sunday, I was leading worship, and a new face was sitting in the back pew. As the service was wrapping up I
walked up to introduce myself. Curt (Lynn's son) greeted me with a smile and then shared that Lynn had passed away. I expressed my sympathies and then asked if there was anything I could do to help. Curt smiled and said, "Mom was not clear on much, but she told us that you and Nancy would be doing her memorial service." Curt and I shared a laugh at how this was "classic Lynn," direct, clear, you knew who was in control.
Preparations
As part of any memorial service preparation, I ask to see the Bible of the person whose life we will be celebrating. Family are often skeptical of what I may find within the pages. I am rarely disappointed and often find deep insight into who the person was and how they lived their life.
As I read Lynn's Bible, it was clear she used it well. There were notes and highlights throughout the pages.
I was drawn to one of the gospel passages Lynn had highlighted.
Mark 4:35-41
Jesus Calms the Storm

That day when evening came, he said to his disciples, "Let us go over to the other side." Leaving the crowd behind, they took him along, just as he was, in the boat. There were also other boats with him. A furious squall came up, and the waves broke over the boat, so that it was nearly swamped. Jesus was in the stern, sleeping on a cushion. The disciples woke him and said to him, "Teacher, don't you care if we drown?"

He got up, rebuked the wind and said to the waves, "Quiet! Be still!" Then the wind died down and it was completely calm.

He said to his disciples, "Why are you so afraid? Do you still have no faith?"

They were terrified and asked each other, "Who is this? Even the wind and the waves obey him!"
Lynn's Note
Within the margin, Lynn wrote;
When our hearts are troubled, He (Jesus) brings peace; we have both faith and fear.
I was struck by the truth found in her words. We can, and often do, live with a mixture of faith and fear. Lynn's note guided my meditation for the day.
Faith and…
Amid the storms of life, as winds howl and waves crash, it is normal to feel fear. We wonder and question what tomorrow holds. Our fear of the unknown cause us to call out, "God, don't you care if _____ happens to me?"
It is in those moments that Jesus can/will grant us peace if we are open to receive it.
Henri Nouwen speaks of prayer as, "the intentional, concentrated, and regular effort to create space for God."
If, in the midst of our fears, we create space for God, we will experience what Jesus talks about as a "peace that passes all understanding."
Lynn was right. We can have both faith and fear. Beyond that we can have faith and doubt, faith and questioning, faith and anger. The list goes on.
A Quiet Confidence
Faith is not the absence of such emotions. Faith is the confidence to move forward in spite of such feelings.
The presence of fear, doubt, questioning, and anger within my life does not mean I am without faith. It simply means I am human. Life is often hard. There are moments, even seasons, where fear, doubt, questioning, and even anger speak loudly into my life. My challenge, our challenge, is that in those most difficult moments we find a way to "create space for God" so we too can know the peace of Jesus.
I am thankful that Lynn was able to remind me of this most important of lessons.
It is okay to live with faith and…
I (we) need to be at peace with that…
We (I) must create space for God…
In that space, God will help increase my faith in the face of the nastiest of storms.
---
Lynn's "Compassion" Family
A big part of Lynn's life was a generous support of children through Compassion International. She had a "second family" around the world. Children supported through Compassion receive…
When you sponsor a child with Compassion International, you help equip a child in extreme poverty with the skills and opportunities they need to succeed. Your sponsored child will be paired with a local church that will help encourage healthy development as they grow.

Through child sponsorship, that boy or girl will be given personal care and opportunities they would otherwise not have access to. Examples include medical checkups, healthy food, education assistance, and key life skills training.

And most importantly, sponsoring a child gives you and that child an opportunity to see the truth of the gospel in action.
Compassion set up a special opportunity to support children in memory of Lynn. If you would be interested you can learn more at Marilyn "Lynn" Klosterman Hoffman.