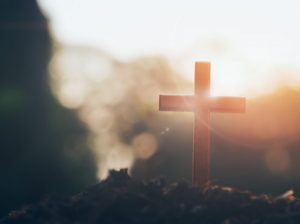 A few years ago Father Rogers from St. Patrick Parish and I joined together to celebrate Good Friday.
Service began at St. Patrick's and we ended up in the sanctuary of First Baptist of Kennett Square. We invited a number of other church and community leaders to join with us as we walked the Stations of the Cross. At each station someone would lead our group in a time of remembering Jesus journey towards the cross. We would use each station as moment to remember and pray for a specific group of people within our community.
Each year our congregations looked forward to the opportunity to join together and celebrate the sacrifice of Jesus. It is one of my favorite services of the year.
As the pandemic overcame our world it quickly became clear that we would not be able to join together in our usual fashion. It did not seem right to give up on what had become such a meaningful and important part of the Easter season, so we came up with an alternative. People from across our community recorded the readings for each station. The readings were edited together into a powerful service of celebration and remembrance.
At 7pm tonight there will be a live stream of our Stations of the Cross service. We will play the video and follow it up with a time of worship. You can either watch the service live at 7pm or view the Stations of the Cross video.
I pray that in this most difficult of times in our world God may use this offering as a way to remember that Jesus is always about the work of Redeeming, Restoring, and Transforming that which looks beyond all hope into something full of hope and promise.
To join in the Stations of the Cross Live Stream at 7pm on Good Friday
To view the Stations of the Cross Video