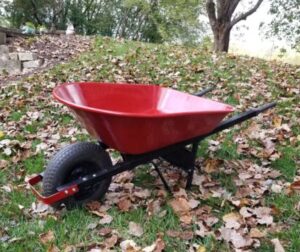 How am I filling my retirement time? I am restoring a worn-out wheelbarrow and reviving memories.
Once I completed organizing my study, it was time to head to the garage. Our garage is the cleanest and most organized I have ever seen it.
The Wheelbarrow
During that process, I came across my father's wheelbarrow.
When we lived in New Baltimore, NY, this was in constant use. Whether hauling firewood, picking rocks from the garden, mixing cement, cleaning out chicken coops, there was hardly a day the wheelbarrow sat still. The wheelbarrow was used to plant and care for the trees I shared about in this post from 2016.
This was not one of those new, lightweight, breaking within the first month kind of wheelbarrows. Instead, the tray was made of steel and could handle anything you threw at it. The only downside was the thing was a beast even before you added anything to it.
Restored
When dad moved into a retirement community, I already had a wheelbarrow. Still, this thing held way too many memories to send off to the dump. It sat beside the house, one of those projects I would get to one day.
One afternoon I started taking it apart. In the end, I replaced a few parts, cleaned everything up, and gave it a good paint job.
Reviving Memories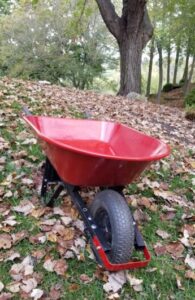 Nobody in our house was willing to use it. They were afraid to be the first person to put a scratch on it. [At least that is why they told me they were unwilling to use it]
On one of my visits to see dad, I pulled out pictures of his restored wheelbarrow. He often struggles to remember things from the past. But, one look and he knew exactly what he was seeing. A huge smile came over his face. Then, he started talking about the property in New Baltimore and all the projects he completed using that wheelbarrow.
What am I doing in retirement?
I am restoring a worn-out wheelbarrow and reviving memories.