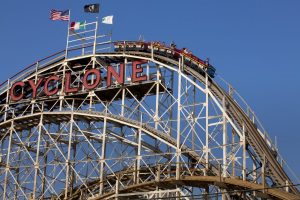 There is a time for everything, and a season for every activity under the heavens: Ecclesiastes 3:1
All of life is a GIFT, even the things that do not feel like a gift. The beauty is that the GRACE of God is constantly present to help us navigate the difficult seasons or storms of life.
The Ride begins
As I sit in front of my computer to write this post, I feel all the anxiety and excitement you get when the rollercoaster starts that first climb to the top of the ride. With each click higher, my stomach would tighten. Once the cars would let go, oh boy.
With each twist and turn, your body is thrown first one way and then another. Halfway through the ride, I always ask myself, is this fun? Why in the world am I doing this? Once back on solid ground, the fear is gone, and only the exhilaration remains.
I hope you are ready for this ride. There will be twists and turns. [Read more…]