A big piece of life in the past few years has been cleaning out the stent in my bile duct. It is amazing how much an ERCP changes life.
Signs of Problems
I have learned to discern when my stent is getting clogged. I become tired. Not your normal; I did too much and need a nap tired. The I just got up, ate breakfast, and am ready to go back to bed kind of tired. It is a tired that you just cannot shake all day no matter how many naps you take.
My brain becomes fogged. It takes longer to think through problems, and writing or reading is just about impossible.
My GI tract starts giving me signs as well. Enough to say that it shows up at both ends.
When things get really bad, my skin yellows, and the whites of my eyes turn yellow.
All of this is a sign that the stent in my liver is blocked and that an infection is taking hold. I have a standby prescription of anti-biotics that usually take the edge off of the worst side feelings. While I start taking those, I am on the portal with Dr. Leung working to get my next ERCP scheduled quickly. We have developed a great relationship, and it has helped keep me out of the ER for the past few times the stent has been clogged.
ERCP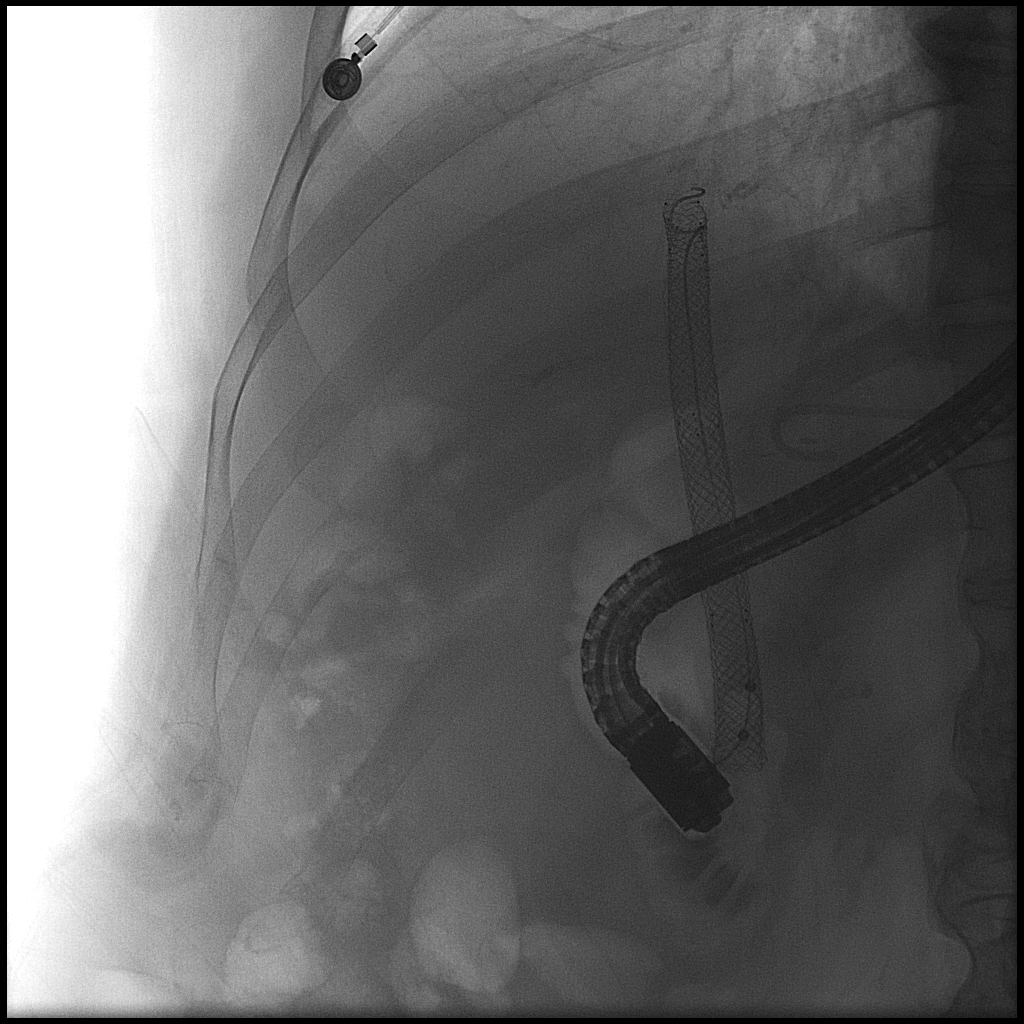 The fix is simple. Well, maybe not simple, but it certainly has worked in my case. I just completed my thirteenth ERCP. It is normally a thirty-minute procedure where they put a scope down your throat and run a wire to the stent and clean it out.
The picture is part of how they accomplish the procedure. You can see the metal stent placed in my liver. The scope is directed down to the base of my stent. Then, Dr. Leung uses a wire to go up and clean out the stent.
Kind of amazing when you look at it.
Once the stent is cleaned out, all the bile from my liver flows freely, and I immediately feel like a new person.
On the way into the procedure I am dragging. Walking out I am just about skipping down the halls.
BTW – the other piece of hardware you see in the upper left of the picture is my port. It is where I receive chemo treatments. A fantastic device. I would love to meet the person who invented it.
Right now I need to have the stent cleaned out every two months.
I will feel great for about a month and a half, and then will slowly decline until it is time to go in and get "serviced" again.
---
Check out the latest episode of the A Place in the Conversation Podcast: