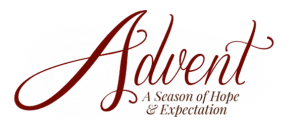 Advent is that special season of the year when we focus our attention on the "coming" or "arrival" of Jesus.
We remember and celebrate the first coming of baby Jesus all those years ago in Bethlehem.
Angels sang, shepherds traveled and Mary pondered.  It was clear God was up to something special.  This child was to bring hope!  Years later Jesus would stand and proclaim
"The Spirit of the Lord is on me, because he has anointed me to proclaim good news to the poor.  He has sent me to proclaim freedom for the prisoners and recovery of sight for the blind, to set the oppressed free, to proclaim the year of the Lord's favor."  – Luke 4
Hope incarnate for a tired, weary and hurting world.
During Advent we are reminded to focus on the Hope we have in the promised return of Jesus the Messiah. 
"Do not let your hearts be troubled. You believe in God; believe also in me.  My Father's house has many rooms; if that were not so, would I have told you that I am going there to prepare a place for you?  And if I go and prepare a place for you, I will come back and take you to be with me that you also may be where I am." – John 14
We are to live each day as if this is not our home…we are just passing through.  My hope is not in the things of this world but is found in the risen Jesus Christ.
Advent is also a reminder for us to look for Jesus to appear in our lives each and every day. 
Where and how should we expect Jesus to appear?  He may speak to us through the scriptures.  There may be something special in words spoken by a friend or stranger.  It may be something we hear or see that God uses to draw us closer to Jesus.  Jesus himself taught that as we spend time with the least and the lonely, the outcast and the downtrodden we will surely be in His presence.
"Then the righteous will answer him, 'Lord, when did we see you hungry and feed you, or thirsty and give you something to drink?  When did we see you a stranger and invite you in, or needing clothes and clothe you?  When did we see you sick or in prison and go to visit you?'  "The King will reply, 'Truly I tell you, whatever you did for one of the least of these brothers and sisters of mine, you did for me.' – Matthew 25
Advent reminds us to search out ways to help the least, the lost, the lonely and the downtrodden.
Where, and in who will you see Jesus this Advent season?