I have moved like a "captive set free" these past few weeks. My body is slowly regaining strength and energy.
Treatment Update
Last Friday Nancy and I had a follow-up appointment with Dr. Saroha. I was clearly in a different place than I have been in the past few weeks. The results from my blood work had returned, and everything was back within normal range. Looking at my labs, everything was "unremarkable."
My CEA, which had proved to be such a good marker for how my treatment was progressing is not so accurate these days. We still watch it, those numbers are important, yet Dr. Saroha is not as concerned if they rise or fall. I am still under the "normal" threshold so we are at peace with that.
The person I remember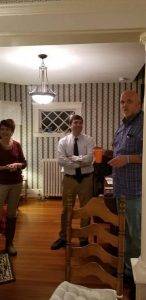 As we walked into Dr. Saroha's office, it was clear I was not the person who left only a few short weeks ago. I have had energy, and my schedule has been filled with meetings and appointments. The past few weeks I have been moving much more like pre-cancer Dan.
The change has been so significant that I even questioned if maybe it would be wise to resume some form of treatment. Having given my body a short rest, maybe it was time to push forward and aggressively treat the cancer growing in my body. When I proposed that idea to Dr. Saroha he told me to relax and enjoy the break for as long as it lasts. He cannot, or will not, give me any sense of how much time away from treatment I should expect. It is classic Dr. Saroha.
Moving Forward
Following the Thanksgiving holiday I will have scans to see how my body is responding to this break from treatment. I will not know anything until then. Based upon those results, we will plot a course forward.
I find this season both exciting and anxiety causing.
Exciting

This week is filled with a lot of pre-cancer Dan type activities. I traveled to Boston to be part of my Nehemiah Network cohort. I spent time with a group of fellow pastors who are interested in working to bring about renewal and revival to their congregations. It is always good to spend time with like-minded people and to learn from each other.
While in Boston Nancy and I got to spend some time with great friends. A few decades ago we served as youth leaders at Maplewood Baptist Church. The relationships built there are sacred. When we gather together the years melt away, it feels as if we were together just last weekend. It was good to laugh, tell stories, and catch up on life.
Setting Captives Free
Tomorrow I will be heading off to a conference where we will wrestle with issues of guilt and shame. One of my favorite passages of scripture is found in Luke, chapter 4. Jesus is in the synagogue at Nazareth. He reads from the scroll of the prophet Isaiah.
"The Spirit of the Lord is upon Me,
Because He anointed Me to preach the gospel to the poor.
He has sent Me to proclaim release to the captives,
And recovery of sight to the blind,
To set free those who are oppressed,
To proclaim the favorable year of the Lord."
"Proclaim release to the captives, to set free those who are oppressed." The older I become, the more convinced I am that Jesus was speaking of much more than incarceration with these words. Many of us are held captive by guilt and shame. We allow our past and the thoughts of others to shape how we view ourselves and relationship with God. Jesus boldly declares, "I have come to set the captives free."
Part of my day tomorrow will be spent wrestling to understand how Jesus can set us free from the powerful spirits of guilt and shame.
Anxiety
I am anxious because I do not know what is going on inside my body. Truth be told I felt the same way as we started my last break. Every ache, pain, season of feeling tired causes me to wonder if the cancer is growing. Over time I learned how to relax and enjoy the season God has given me. I am praying for a similar experience this time.
Book Progress
"The Journey Continues" has moved from the editorial to design stage. I am excited to see this project come near completion. There will be a proof to review and then we will head into the production stage. I do not have a clear timeline on when it will be complete. You can be sure I will share it with you once the book is available.