Misplaced emotions can be strange things. My emotional reaction to a "bad" apple pie revealed I was wrestling with deeper things.
A half-baked idea
It happened again the other day. McDonald's got me.
The fact that this has happened more than once should probably embarrass me. But, instead, it got me thinking.
Nancy and I were traveling back from Rochester, and we stopped at McDonald's to use the restroom and a quick bite to eat. As I was finishing up my meal, I felt myself longing for something more. I was craving an apple pie.
Nancy went up to the counter and ordered two apple pies. The anticipation was almost too much. I could not wait to open up that small rectangular box and slide out the gift of apple goodness.
I was polishing off the last of my fries as Nancy returned. The timing was perfect.
Opening the pie, my heart sank. Oh yeah, they started baking their pies.
Only an apple pie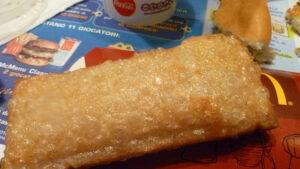 What I longed for was the apple pie of my youth. The deep-fried, so hot it would blister your mouth apple pie. You could hear the crust crunch as you ate it. Never mind the fact that your arteries were clogging with each bite. A fried apple pie from McDonald's was living!
Sitting there looking at this baked pile of mush, I was crushed. Disappointment rolled over me. I actually heard myself say, "it's only an apple pie." [Read more…]