Rayann recently had an American Literature Assignment and she ended up writing about our relationship.  She shared it with me the other night.  After I wiped my eyes I thought how blessed I am to have a daughter like her.  It has been fun to journey with her as she travels the road to adulthood.  Nancy and I have always been extremely proud of who she is and how she handles herself.  I asked for permission to share her assignment with you.  I hope you enjoy her work, I have added some of my favorite pictures of the two of us over the years.
---
---
DAD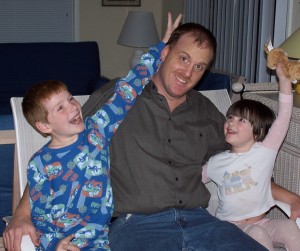 "Come on, don't be a loser." This was what my dad said as he held out the wasabi peas to me and my brother. Of course we didn't want to be losers, so we ate them, jumped around a bit and then smiled at the fact that we were not losers. Dares like that are a common thing with him. They are usually followed by what I now call "The Look" from my mother. He was always joking around and daring someone to do something. One of the jokes I could never seem to get was the "Rayann your food looks a little weird. Let me smell it to make sure it's ok." of course I didn't want weird food, so I would hand him my food, usually an ice cream bar or something like that. He would smell it and then take a big bite. I would say something like "NO, don't eat it all!"  and my mom or brother would say, "He does that every time. You shouldn't be falling for that!". I fell for that for longer than I would like to admit. My dad and I have always been partners.  We have our own traditions; things that my mother and brother were usually not included in. Our Dunkin donuts mornings are one of my favorites.
I was in kindergarten. About once a week, he would wake me up and we would go to Dunkin Donuts. I was five, so of course I was all about the sugar. I got the same thing every time, a jelly donut and a mou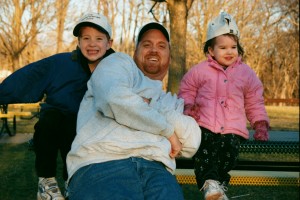 ntain dew. That was one of the best parts of going somewhere with Dad, you almost always got to do something mom wouldn't approve of. We would sit there for a while, I would eat my breakfast and then it was off to school. That's another reason why those mornings were so amazing. I got to come to school late. My dad would walk me down the hallway, passing moms classroom on the way. Mom knew this was a tradition of ours. Luckily, my teacher liked me enough, so she didn't mind I was late. She probably wasn't thrilled about my breakfast choice that morning. The jelly donut has always been my favorite. We don't really go out for that anymore, but my dad still has his ways of bringing it back. On my fifteenth birthday my dad went out that morning and got me fifteen jelly donuts. There is one birthday that was just me and my dad the whole day.
I was born on August eighteenth. In North Carolina that is the day that teachers go back to school. For me that meant my mom would be working on my eleventh birthday. My brother had already started school, so that left me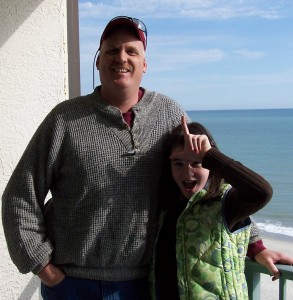 and my dad. We planned out a whole day. We started by eating a nutritious breakfast, which was a cinnabon, the biggest cinnamon roll I have ever had. The next stop was the movies. I picked out "Cats and Dogs: The Revenge of Kitty Galore". My dad, being the good sport he is, made it through the movie. Next on the agenda was the pottery place. We each picked out something to paint. I picked out a little dog and Dad picked out a little plate. At the time I thought a plate was a pretty boring choice, but I didn't question it. I painted my dog purple with pink dots. My dad took the plate and put "Happy Birthday Rayann" in the middle and then put "2010" at the bottom. On the sides he put peace signs, which at the time I was obsessed with. Both the dog and plate have a spot on the hutch. By that time it was probably around 2pm, it was time for lunch. I had picked out the Cheesecake Factory. I figured it would be great considering my dad and I are both cheesecake lovers. The restaurant was a pretty fancy place. I ordered shrimp thinking it would be like the popcorn shrimp I like; it wasn't. When it came out I must have looked a little overwhelmed because Dad laughed a bit. Overall it was pretty good, but I was there for the cheesecake. I ordered a slice of Reese's cheesecake.  I was expecting a nice little slice, but what I got was a pretty big slice. I was able to eat a little bit of it, but decided it would be better to take it home. After that it was time to go home. When we got home my mom had invited my grandparents, my Aunt and Uncle and younger cousins over. She had made my favorite meal and favorite sides. Nana also made banana pudding which is my favorite desert. My dad and I just looked at each other and kind of laughed because we weren't really hungry, we had spent the day eating. That was one of my best birthdays. Not all my favorite memories with my dad involve food.
My dad has always had a woodshop. He can make just about anything you can think of. I'm his "helper", meaning I mostly stand by and hand a screwdriver or something like that. One day he had taken a trip to the dump to get rid of some stuff. When he came back he called me into his shop. When I got out there he had all these parts, by parts I mean a frame for wheels and a part for the handle, on one of his tables. He told me they were parts to a wagon. I of course didn't think they would ever make a wagon. The next day he made a bed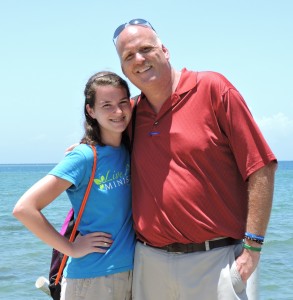 for it. He asked me what color I wanted to paint it, purple was the answer. The next thing we had to do was find tires for it. We went to about three different stores before we found the right size. The next thing we had to do was put it together. That didn't take too long.  I thought we were all finished, but he went to the store one more time. When he came back he had sticker letters to put on it. They spelled out my name. That may not seem like a big deal, but with a name like "Rayann" I rarely ever find anything with my name on it, so it was a big deal. I was pretty excited with the finished product. I had my own purple wagon with my name on it. I still have the wagon. Anytime yard work is involved, I bring it out.
These stories are some of my favorite memories about my dad. We still have your typical father-daughter arguments. Our opinions on clothes are not always the same. I'm still his helper in the shop, but I do more than hand him a screwdriver now. The Dunkin Donut mornings have now turned into driving lessons, and some are more stressful than others. It's like the food prank, I may not think it's the funniest thing now, but I know we will be laughing at it in ten years. There's a quote that says "A father is his daughter's first love" for me that couldn't be more true.