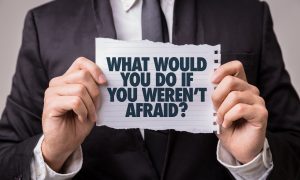 We all experience fear at some point in our lives, some more than others. Facing our fears allows us to experience healing and renewal.
Fear is a fascinating and terrifying thing.
As an emotion, it is universal. Everyone experiences fear at some point in life, some more than others.
Yet what causes one person to shake in their boots may serve as a source of joy for another.
Think about a group of people going to a theme park for the day. There will be a few people who can't wait to ride the largest rollercoaster. Others will agree to go along after some coaching and encouragement. Still, others are content to sit on a bench, and people watch while the adrenaline junkies get their fix.
The theme park bench rider may get a thrill from speaking in front of large crowds, while the coaster riders will search for any excuse to avoid public speaking.
The emotion is universal. What elicits fear will be as unique as each person.
The Source of our Fears
Rather than talk about specific fears, reflecting upon the broader sources of our fears is probably healthier.
Past Trauma: Difficult experiences from our past can cause us to move with an attitude of fear.
An Imagined Future: Looking to the future and only seeing what might go wrong can result in our being paralyzed in fear.
Very Real Danger: Sometimes, there is a threat in front of us that we must deal with.
Peoples Projections: If someone speaks words that belittle and demean us, we may forsake the truth of who we are and live with a spirit of fear.
Being Unfamiliar or Uninformed: Some of our greatest fears come from things we know little or nothing about. Without experience or knowledge, we are afraid.
I am sure there are other sources of fear. Fear is a universal emotion. Since fear is universal, we are left with a simple yet complex question. How do I face my fears and move past them? [Read more…]