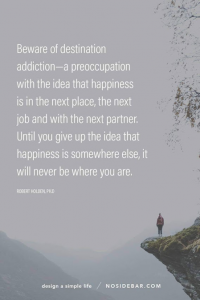 Most social media is fleeting entertainment. A post about destination addiction got me reflecting upon happiness and where to find it.
The Mindless Scroll
Absent-mindedly scrolling past pictures of friends on vacation or celebrating milestones in their lives, I was barely paying attention.
First drawn to the image, the quote grabbed me.
"Destination addiction – a preoccupation with the idea that happiness is in the next place…."
Interesting concept. Save the image to my phone. Scroll on.
For the past three weeks, the Spirit has continued to draw my mind back to the idea of destination addiction.
Just Around the Corner
This world does a great job of teaching us that fulfillment or joy will be found one step ahead of where we happen to be.
Finish school, get a job, then you will be happy. Get the promotion; that is where contentment will be found. Fulfillment will be yours with a different job that pays better, challenges you more, and has more likable co-workers. Life will be filled with joy when you can retire and stop working. Retirement will be enjoyable once you find the right place to give back to your community.
Happiness and fulfillment are always found in the next thing. [Read more…]